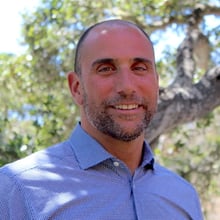 I am Captain Andy Bozzo, a 23-year veteran of the fire service and co-founder of Tablet Command.
Founders always have a core "WHY" when they start technology companies. Sometimes it's financially motivated, and sometimes it's philanthropic. Our "WHY" is to prevent unnecessary death and injury of fellow firefighters. Our "WHY" is to save lives.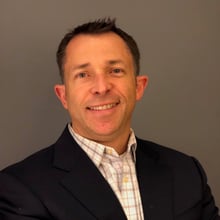 Along with fellow firefighter and co-founder William Pigeon, we conceived and created Tablet Command. Will has 23 years in the fire service and was an Assistant Chief until joining the Tablet Command team full time in November 2020.
Our "WHY" grew out of the line of duty death of two of our brothers during a "routine" house fire. The loss of our fellow firefighters was devastating. I was so impacted by the loss that I became determined to try to make a difference -- to minimize the chance that this could happen again.
The National Institute of Occupational Safety and Health (NIOSH) has identified five factors that contribute to Firefighter Line of Duty Deaths:
Inadequate Risk Assessment
Poor Communications
Inadequate Command
Lack of Accountability
Lack of, or failure to, adhere to SOGs.
Together, Will and I conceptualized, developed, and deployed a digital platform called Tablet Command to address these issues. Here's how Tablet Command addresses each of the "NIOSH 5".
Risk Assessment
While responding and on scene, users can visualize where units are assigned, access building
pre-plans
, hydrant locations, current weather conditions, and more. These real-time tools support an effective risk assessment based on detailed information including occupancy size and type.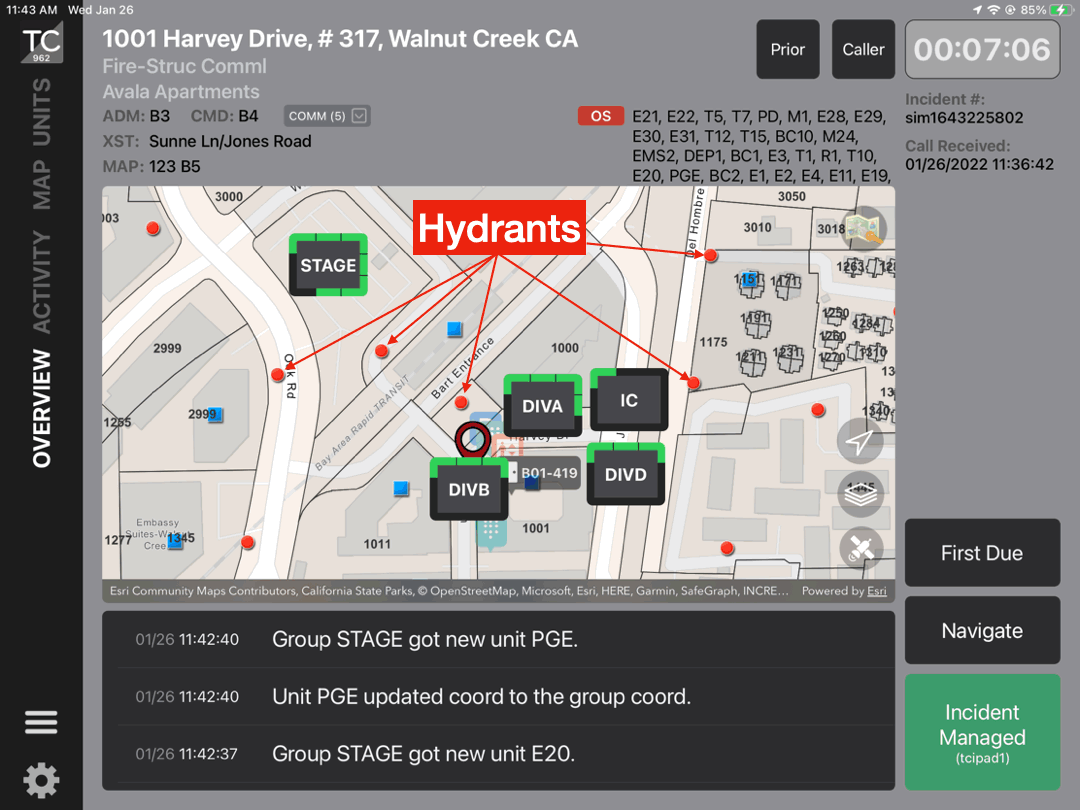 Communication
Communication is critical in the emergency response environment. Tablet Command
integrates to your Department's 911 Center
to provide immediate incident information to iPads and smartphones. All responders equipped with these devices see all of the CAD information and updates for incidents in real time including CAD comments, apparatus assigned and their current statuses, vehicle locations, and any changes like a changed address or updated radio channels. This improves communication and reduces unnecessary radio traffic.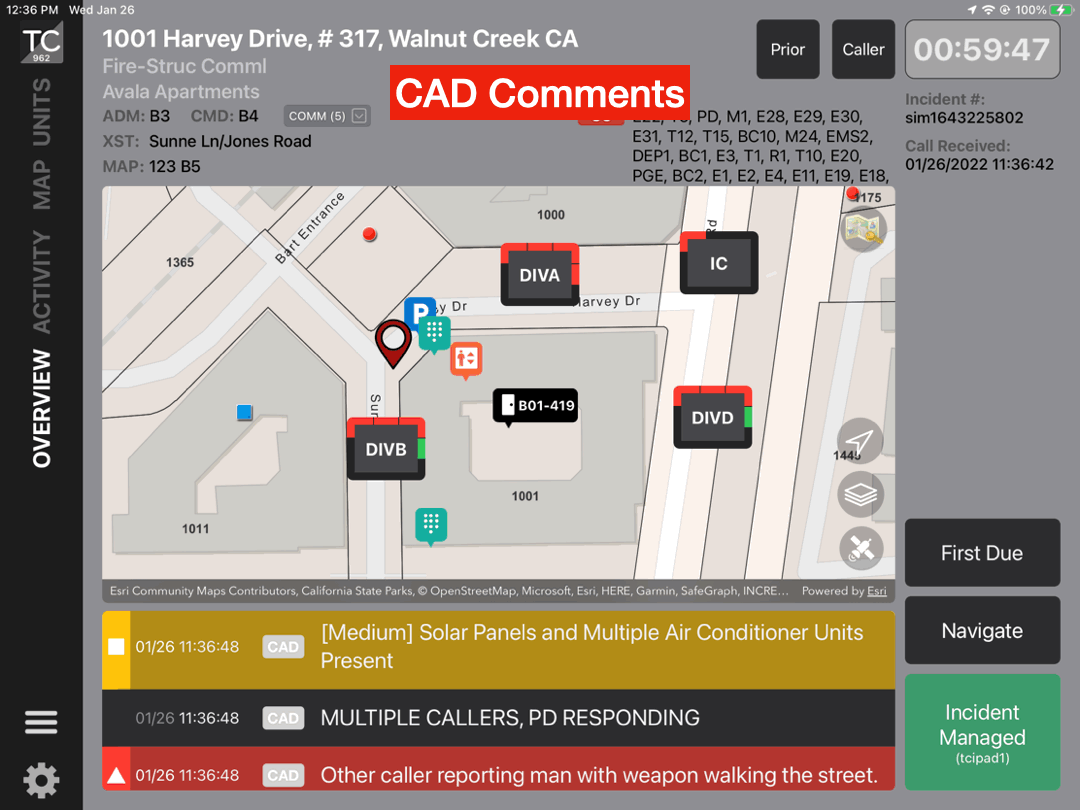 Command
Incident Commanders can assign and track all responding units using agency-specific checklists and templates. This is faster and more accurate than a whiteboard, tactical worksheet, or pad of paper. All response personnel share a common operating picture, as any assignments or changes an Incident Commander makes are instantly visible on each Tablet Command user's device. Use of checklists and templates help drive adoption and adherence to agency SOG's.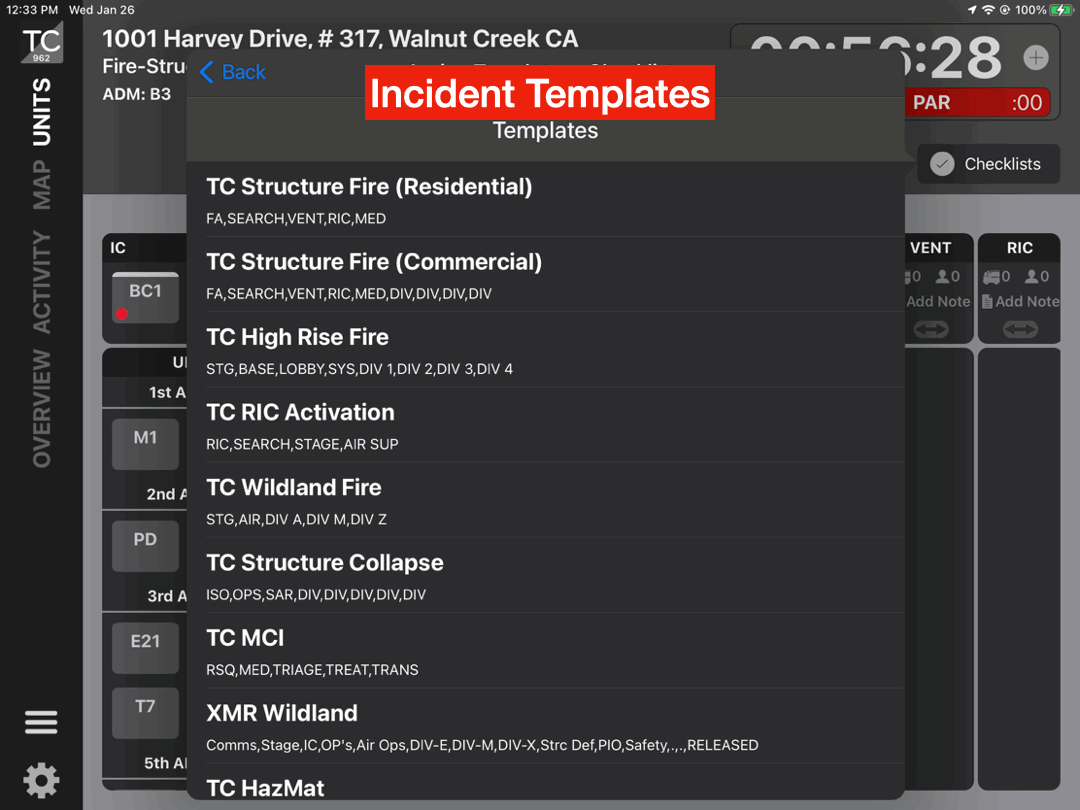 Accountability
Personnel accountability is one of the primary responsibilities of an Incident Commander. The Fire Service has used a number of legacy solutions in an effort to achieve accountability, including T Cards, PAT Tags, Passport Systems, and Accountability Officers.
Tablet Command integrates to
Fire Department staffing solutions
and updates continuously. We support a number of on-premise and cloud-based solutions including CrewSense, Telestaff, NetDuty, Aladtec, Firehouse, and even Google Sheets. The riding list includes full names, riding positions, and is displayed for each unit.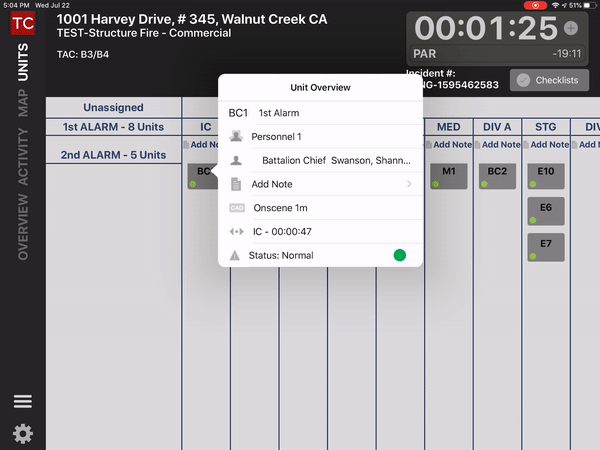 SOG's
Tablet Command supports agency specific Templates (tactical worksheets) and Checklists (tactical checklists) for an unlimited number of incident types. These resources are configured for your Tablet Command account based on your SOGs; and are shared across all authenticated devices. Templates and Checklists can be easily updated by account administrators when changes are made at the organizational level. Tablet Command Templates and Checklists encourage consistent strategic and tactical operations across your Fire Department or region.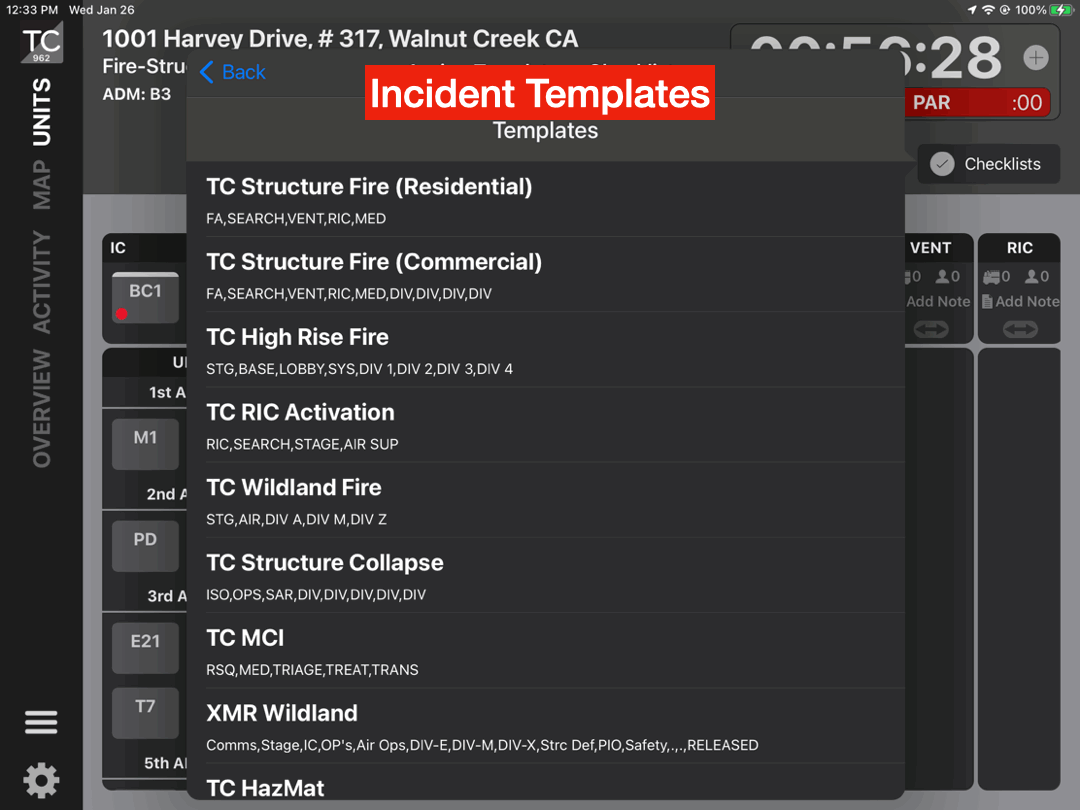 Today, Tablet Command integrates with a number of other solution providers to provide the most timely and comprehensive information possible under a single pane of glass to over 15,000 unique users across North America. Everything we do here at Tablet Command originated from Will and my "WHY" as founders. Our entire team is focused on a clearly defined purpose: to make first responders and the citizens they serve safer by providing the best digital incident response and management solutions possible.