We are excited to announce the release of TC Mobile for Android v1.0! It will be available in the Google Play store Monday August 18th.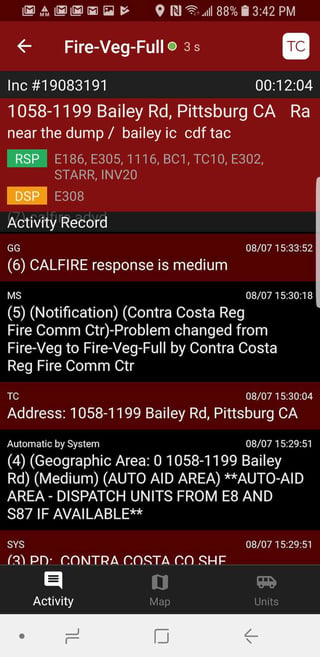 Now any public safety professional with a smartphone (and an account in their department's Tablet Command instance) will have real-time access to emergency call notifications, CAD notes and Vehicle location information.
Often smartphone notifications arrive 20-30 seconds before the station allerting system activates, resulting in faster get out and arrival times and better situational awareness with easy access to call data from the CAD feed.
Turn by turn navigation in Google Maps and Waze, resource status in CAD (units assigned, real time vehicle location and unit status), CAD notes, and notifications by unit or call type are just some of the features in TC Mobile for Android.
Please note:
TC Mobile for Android v 1.0 does not support Real Time Sync (RTS). You will not be able to see unit assignments, work timers, or where resources have been placed on a map. The RTS feature will be added to a future version.
Also, TC Mobile for Android currently uses Google maps rather than ESRI maps; therefore, department ESRI map layers such as hydrants and pre-plans are not available at this time. We will be adding ESRI mapping support in a future release which will also support the new ESRI Quartz SDK.
To install TC Mobile on your Android mobile device follow these simple steps.
Go to the Google Play Store. Search for TC Mobile and install the app. You can also follow this link: TC Mobile in the Play Store
Login to TC Mobile using your Tablet Command credentials. If you don't have Tablet Command user credentials, contact your department's Tablet Command administrator and ask to be added to TC Mobile. You will receive login credentials which you will use in the App to login.
For help learning about how to use TC Mobile go to the TC Academy page and watch the TC Mobile videos.
If you have additional questions click "Support" on the Tablet Command Website and fill out the form or email support@tabletcommand.com.
Improved get out and arrival times, enhanced situational awareness and fire ground efficiency are just some of the benefits available to public safety personnel using the suite of Tablet Command applications on smartphones and tablets.