If you're interested in Tablet Command but don't know how to get started, we have a solution for you...
Download Tablet Command from the App Store (onto your iPad) to learn why Fire Departments across North America are using this best in class tool to enhance incident response and management.
Here is what the stand alone version of Tablet Command can do for you…
Rather than managing a response with pen and paper or a white board, Incident Commanders can tap and drag responding units into assignments, map progress against critical checklists, keep track of how long personnel have been deployed with built in timers, and receive reminders to perform routine PAR checks.
When you use Tablet Command, you cannot accidentally lose accountability by erasing a unit from the whiteboard, have trouble reading your own writing, or wonder when a unit was assigned or a task was completed. Everything is logged, time-stamped in the activity notes, and easily exportable to make report writing a breeze.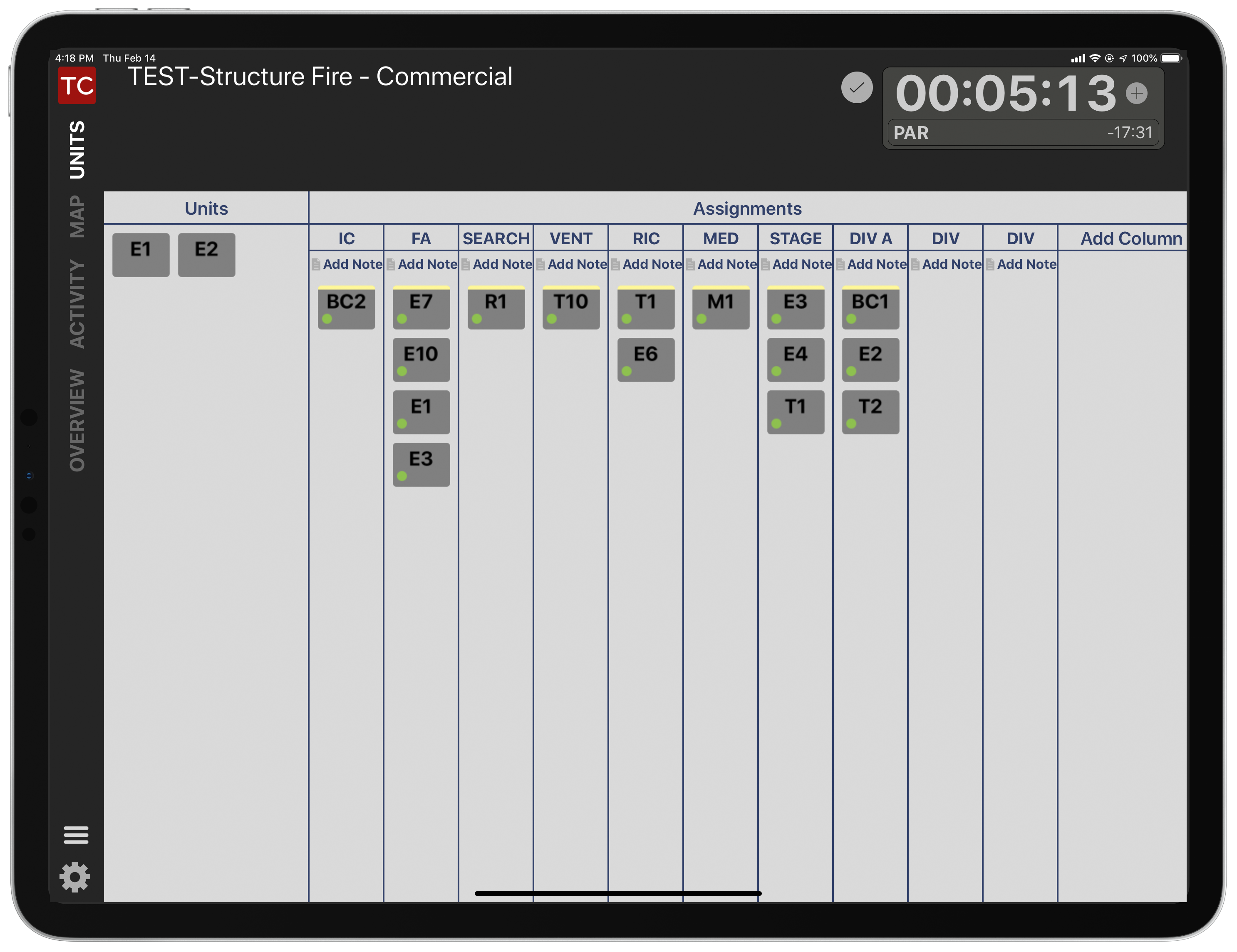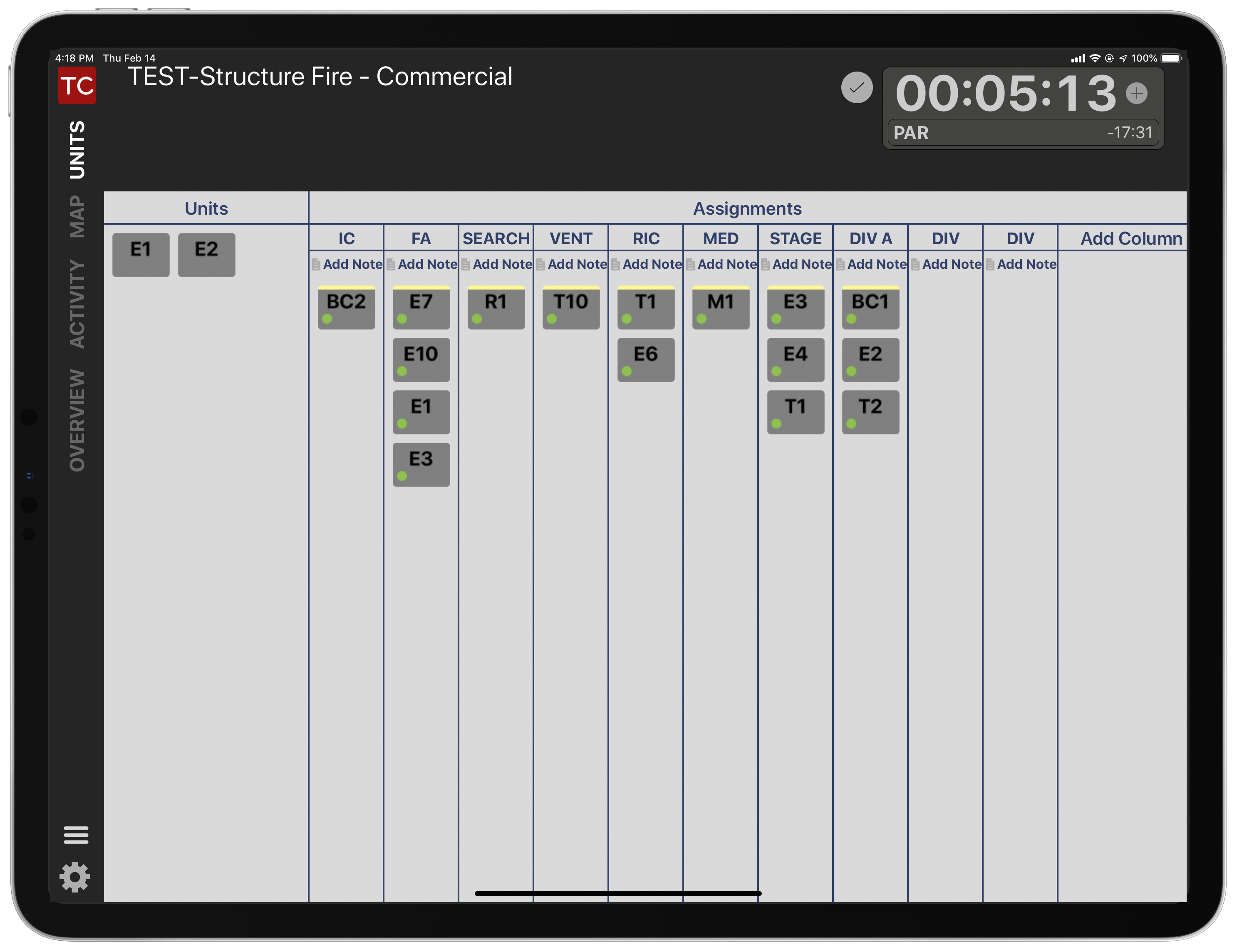 Once you have downloaded the stand alone app onto your iPad you can get ready to better manage any Incident by pre-configuring key sections.
First you will set up your Resources...
Next, you can add your Checklists.
After that it is time to add the Assignments.
Finally you can begin to manage your first incident.
You can find more video tutorials to support setting up Tablet Command and managing an incident at:
https://www.tabletcommand.com/nextsteps
There are some noteworthy differences between the stand alone app and a Tablet Command Enterprise subscription and integration.
Without a Tablet Command subscription, and CAD integration, the app does NOT automatically display calls in your jurisdiction. Also, without a subscription, others in the organization will not be able to follow along as you manage an incident, using our Real Time Sync feature.
Tablet Command Enterprise integrates with any CAD system and has five major benefits for first responders:
Reduced turnout times through early notification
Enhanced situational awareness
Improved personnel accountability
Better access to critical information
Improved emergency scene safety for all responders
With an upgrade from the stand alone app to the Enterprise version of Tablet Command you can also activate features like two-way CAD integration, live vehicle location on map views, custom Esri based map layers including pre-plans and hydrant locations.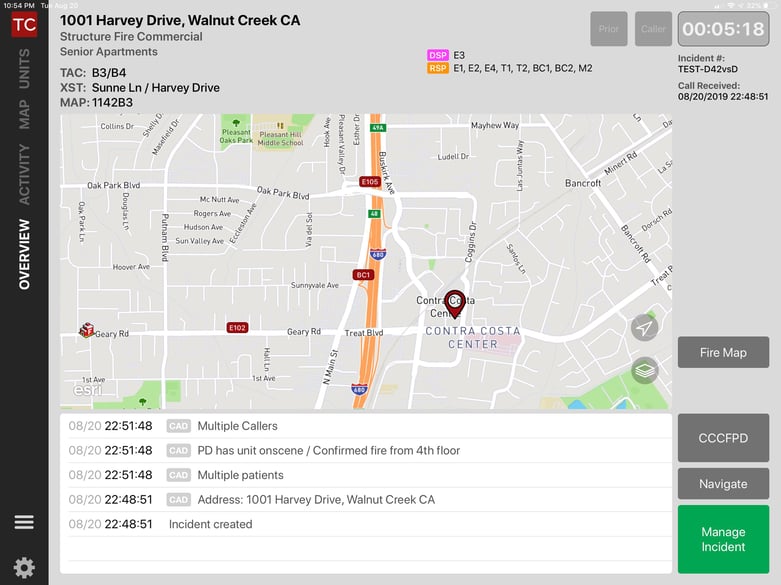 Additionally, with an enterprise solution Smartphone users can use TC Mobile to access the same CAD feed, follow managed incidents, and view custom map layers!
Watch this 90 second video for a brief overview of the Tablet Command solution with CAD integration.
Questions? We want to make sure your introduction to Tablet Command goes smoothly.
Please contact us at support@tabletcommand.com and or view the tutorial videos at:
https://www.tabletcommand.com/nextsteps
To learn more about our enterprise solutions or to arrange for a free on-line demonstration go to www.tabletcommand.com, or click the button below!