The Tablet Command team has been hard at work developing and deploying new features to better meet the needs of the responders we serve. The pace of change has accelerated over the past several months, and we thought we should provide a review of the highlights in the event that you've missed something.
Enhanced Work Timers
When we first designed Tablet Command the work timers continued to count up as long as a unit had an assignment. Because of this Incident Commanders could not see how long a unit had been in its current assignment. To better support time tracking, the work timer now resets when a unit is dragged from one column to another. For instance, when a unit is dragged from FA (Fire Attack) column to REHAB its work time indicator will reset to green, and the timer will reset to 00:00:00. This way the work time indicator is an accurate reflection of the time in the current assignment. You can tap on a tile to see the indicator, the work timer, AND how long they have been attached to the incident. This timer starts when the unit is dispatched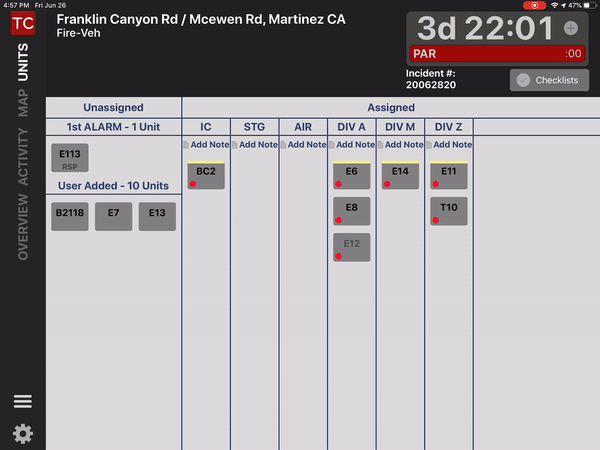 Reorder Columns


Customers requested an easy way to reorder columns to better reflect the priority of the assignment or to more logically organize the event. In response, our team added the ability to drag and drop group/division columns much like you drag and drop units into assignments. This is a welcome functionality especially in larger incidents where sometimes columns can run off the main view. To move the column, long tap on the column you want to move, it will appear to pop up, then you can drag the column to any position. The animation makes it clear where you will be dropping the column.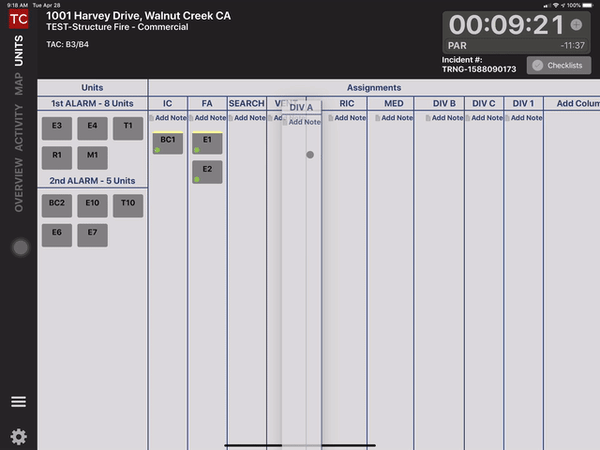 Extended Incidents


Many of our customers have created long running managed incidents to support strike teams, their responses to COVID, and to civil unrest. Some of these incidents ran for days or even weeks. By default, Tablet Command closes a managed incident that has been left open for over 120 hours unless there has been management activity. In version 2.1 we added the ability to tag long-running incidents as "Extended" so that they stay open until closed by the user managing the incident. A small "E" is displayed next to extended incidents, and notes are added to the Activity Record when the incident is tagged. Incidents not tagged as extended will close, as before, after 120 hours of inactivity.


ManualLy Created Incidents


We thought the "old" way of manually creating an incident by tapping the "New" button required too many steps as users cycled through three screens to create an incident, so we streamlined the process into one screen. After tapping "New", users can set location, choose a map, and add checklists, templates, and units. In fact you can quickly create an incident at a location and then choose the other items after the incident is created to get into incident management as quickly as possible.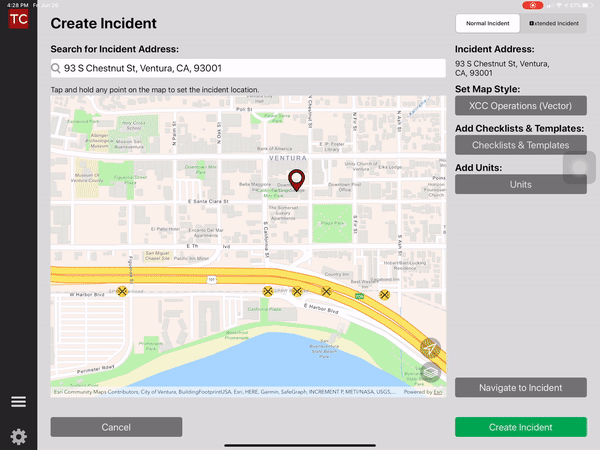 Many of the features we develop are based on ideas or requests from users in the field. Everything we do is focused on meeting your needs while maintaining the simplicity and utility of our products. If you have an idea about how we can improve Tablet Command to make it better serve your needs, please contact us at info@tabletcommand.com and share your thoughts.