Earlier in 2023, Tablet Command added support for In AppAudio. The features allows users to access multiple audio streams and maintain situational awareness, even while away from the radio.
"Tablet Command makes several technologies available through one platform," says Chief Mike Taylor of the Sacramento City Fire Department. "This is another example of that. Having everything at our fingertips really keeps things simple for us."
Within Tablet Command, users can group streams logically and make them easy to navigate with categories like Dispatch, Command, Tactical, and Air to Ground. Users can play, pause, and adjust the volume of each steam independently to make sure they're getting the right information without unnecessary distractions.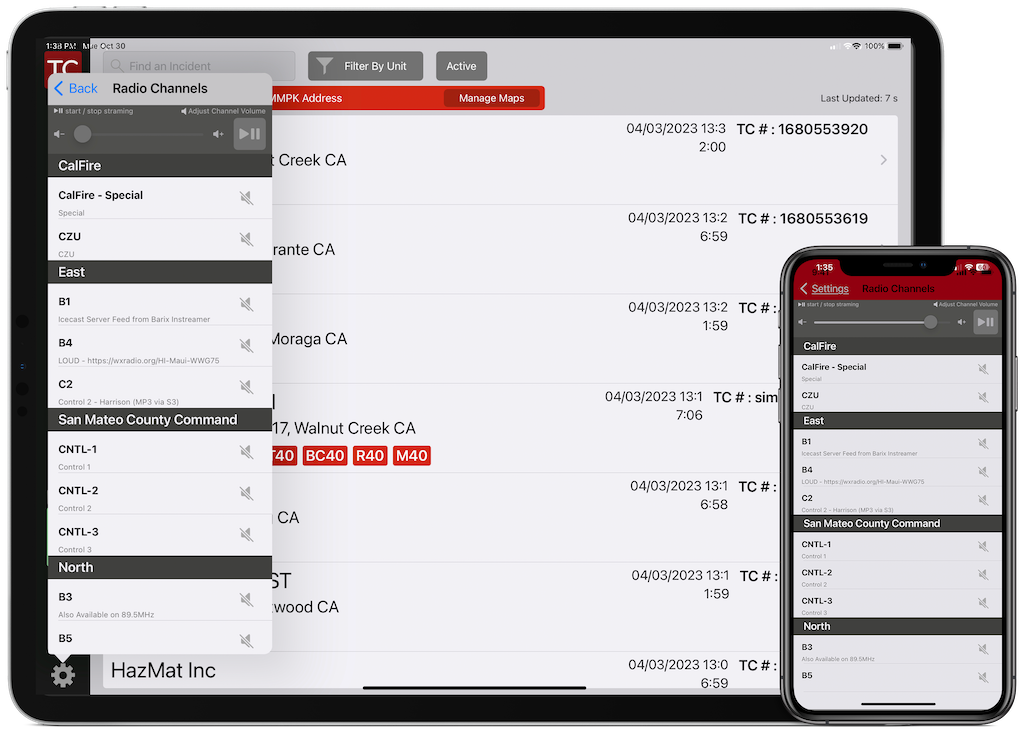 Any MP3 or MP4 audio stream with a distinctive link will work, and Tablet Command's TC Streaming service allows departments to initiate new high performance, low latency streams. Support from TC Streaming allows uses to get consistent access to the audio information they need.
"I'm excited about the new capability," continued Taylor, "and even more excited that Tablet Command is committed to constant evolution. Their team's connection to the firefighting community and willingness to adapt to our needs is their biggest strength. I know they'll keep up with evolving agency needs. They're a trusted partner for us because you can just tell they're in it for the long haul."
To add existing streams, like Broadcastify audio to your account, please reach out to support@tabletcommand.com and our team will help configure them for you. If you would like to explore our advanced TC Streaming service, please reach out to your Tablet Command sales rep or to sales@tabletcommand.com.