While the North American wildland fire season has wound down with the arrival of winter, our attention turns to Australia where fires are devastating the entire country. Let's look back at how North American Tablet Command customers used mapping, location, and incident management tools to enhance operational efficiency and responder safety while gaining an advantage during the 2019 Fire Season.
Tablet Command is a notification, response and emergency management solution that includes several invaluable mapping features that support responders before, during, and after wildland fires and urban interface incidents.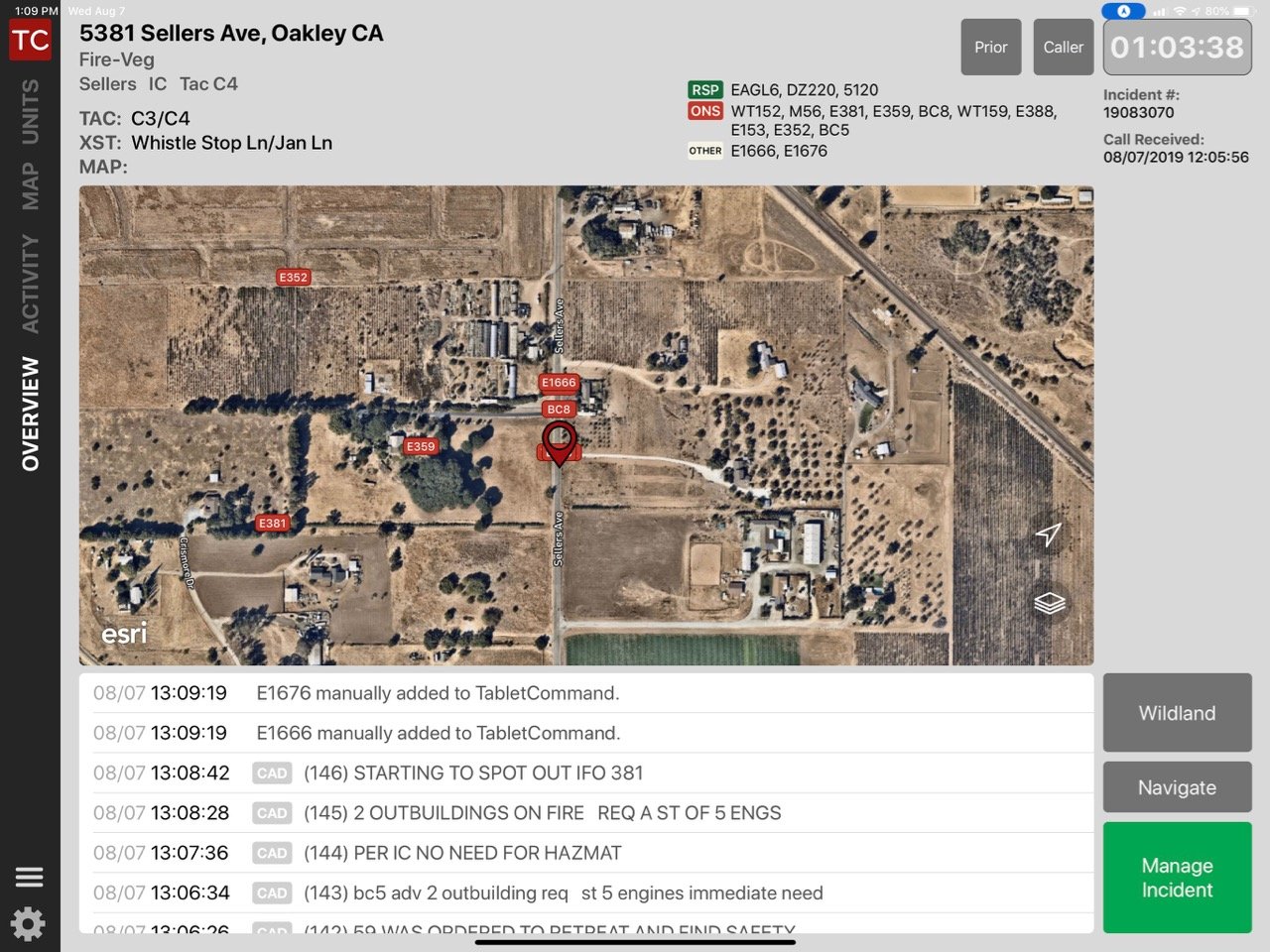 Using Tablet Command (iPad) or TC Mobile (iPhone, Android), response personnel can immediately view the incident with a variety of map resources in the "Overview" screen or by tapping the "Map" tab.
Users can visualize incidents using street, satellite, and topographic basemaps, and change views with a simple tap on the screen. This gives all personnel an advantage in establishing "Lookouts, Communications, Escape Routes, and Safety Zones (LCES) before they are required, which is an identified best practice in the wildland and interface environments.
In addition to the management and mapping tools in Tablet Command, every responder has access to critical information through TC Mobile (iPhone, Android)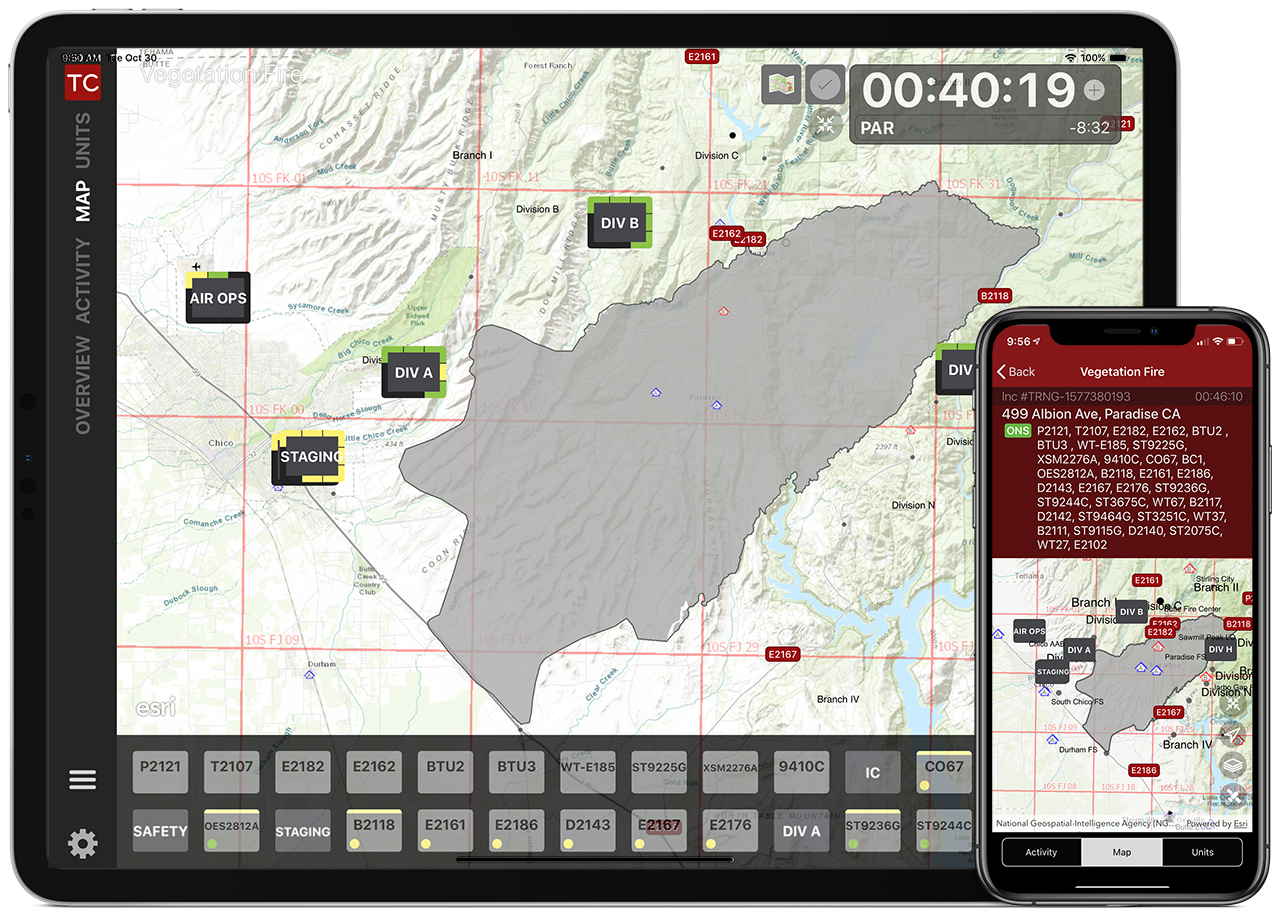 Incident Commanders and Strike Team leaders can track resources and maintain accountability using Tablet Command's best in class management tools which work even without an internet connection. With Real Time Sync(RTS), every responder can view where incident commanders have placed resources geospatially in the map view. They can also see accurate apparatus location through Automatic Vehicle Location(AVL)
By harnessing the power of Esri ArcGIS Online, users can easily access map data including: fire-lines, MODIS satellite data (the red dots in the image below), jurisdictional boundaries, evacuation zones, landing zones, fire-lines, incident resources, as well as up to date incident maps. Anything that can be displayed on a map can be consumed through Tablet Command and TC Mobile.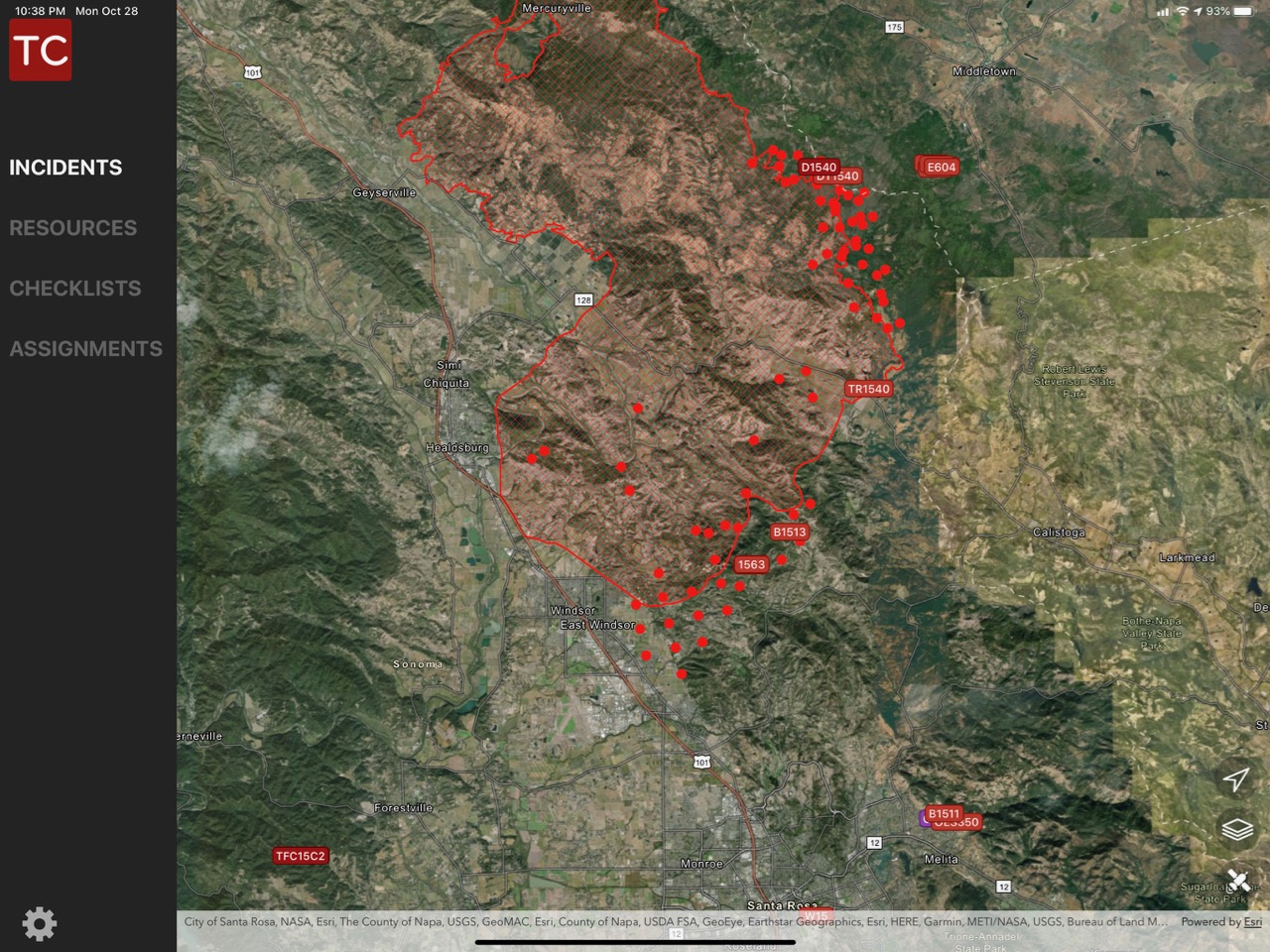 Knowing exactly where all of your resources are, significantly elevates situational awareness, operational efficiency, and responder safety. Tablet Command leverages GPS location provided by a variety of sources including AVL modems and the iPads and iPhones themselves. It displays the data using seamless and intuitive tools in an interface that has been developed with laser focus on the needs of response personnel.
Don't wait! Learn more about Tablet Command before the 2020 North American Wildland Fire Season is upon us!
Watch this one minute video where Battalion Chief Graham Groneman describes how Tablet Command's mapping features played a vital role in guiding his department's crews away from potential disaster.