It's easy to be provincial when you live on the West Coast. All of our sun, the mountains, the ocean… Indianapolis may not be a likely destination for the typical world traveler. In fact, Indy is one of the hippest cities we visit: great food, INSANE jazz, fun clubs and great drinks. Indy pride spills over as hipster kids and upwardly mobile millenials command the city, or at least the Mass Ave portion of the city. The best part? Wait for it…
…the people are NICE!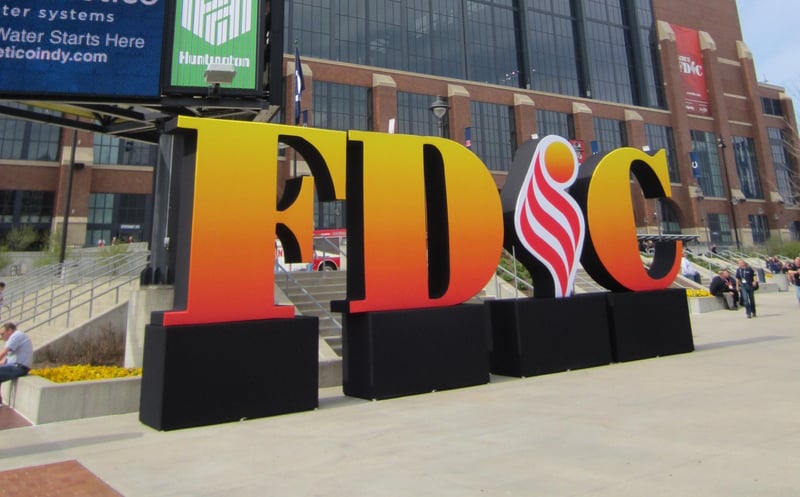 Which is ultimately the reason I really look forward to going to Indy every April for the Fire Department Instructors' Conference or FDIC. Indy makes coming to the largest annual Fire Show in the world feel like going home for the weekend. It may be what attracts thousands of thought leaders, instructors, and speakers from near and far on all things emergency management and Fire.
This year Tablet Command was lucky enough to be hosted by our friends at Esri, the world's leading mapping software company. And we were quite happy to share the Esri booth with friends from Intterra and TriTech, some of the leading CAD providers.
After a very busy show and conversations with hundreds of current and prospective customers from all over the US, Canada, Europe, and even South America, here are some key observations:
For vendors serving the Fire Service:
The fire service is still very slow to implement new technologies. Of course this stems from the layers of political and bureaucratic complexity we all know about. But too, fire department decision makers are still recovering from economic hardships stemming from the Great Recession.
It is imperative that vendors make products where integration is frictionless. The debate over open source is over.
Vendors must strive to create whole solutions. Delivering the whole solution reduces risk for the purchaser by ensuring that the shiny thing they want doesn't prove to be bait with a hook in it! All-in-one platforms also reduce friction for decision-making.
Fire Chiefs are pressed for time and hate writing multiple checks.
From an operational perspective the fire service is talking about:
Active shooters and response to lone-wolf terrorist events.

As these become more frequent and occur at random, ORGANIZING INFORMATION and ORGANIZED RESPONSE with multiple diverse agencies being on the same page is critical.
The fire service should and could take the lead on this by using FIRESCOPE (California), Fire Command (Brunacini) and ICS principles.

Response to natural disasters in our rapidly changing climate, seismic and other large events. Strange, big events are the new normal and our response is global:

Large and small agencies need to find ways to INTEROPERATE for emergency and hazard mitigation
Training is critical! Training on a regional level is even more critical. Check out the RTG in LA/SoCal
Western wildfires, Midwest/South floods and tornados, East Coast hurricanes, and winter weather

Emphasis on hotter and faster fires in the structural world and the toll and physical strain it is putting on resources and individuals.

Cheaper, more abundant, products composed of petro-chemical ingredients are causing fires to burn hotter and faster with much more toxic by-products
Emphasis on flow path firefighting tactics
Emphasis on respiratory and other personal protection devices

Health and Wellness

Firefighter fitness. Our best opportunity to reduce line of duty deaths is through prevention of sudden cardiac arrest. 555 Fitness as great WOD's!.
Emphasis on rehab. Do we take it seriously or do we try to tough it out because it's culturally engrained?
Mental Health: Firefighter Suicide Prevention and CISM/PTSD mitigation.
Firefighter cancer
These were some of the big-ticket items that were talked about at FDIC 2016.
The FDIC recharges batteries and challenges attendees to go back to their agencies and make a difference by moving the ball forward. Maybe in this next year, all of us can set a goal for a few first downs. What I'm learning is that touchdowns are hard earned but worth it, but our culture challenges us to a pace that may be slower than expectations.