"Between every two pines is a doorway to a new world." —John Muir
I just returned from a short, much needed fly fishing trip to the Sierras. Nothing compares to the rejuvenation one feels from time spent in the mountains. Of course it's always great to be up high; the mountain streams, the beautiful granite amphitheaters, the wildflowers, and, of course, the trees are all sights to behold.
There's this one thing. The trees—especially the largest and most majestic ones—are dying at an alarming rate. I've read about it and heard about it through different news stories but until you walk among it you can't fully realize the impact that prolonged drought and beetle kill are having on these forest giants. Being a somewhat of a conscious woodsman, I grew a bit paranoid not only about the dead, fallen trees on the ground but also about the snags or "widow makers"; the standing dead. Would they fall without warning and pile-drive us into the duff? There was evidence strewn literally everywhere on the ground to suggest the possibility.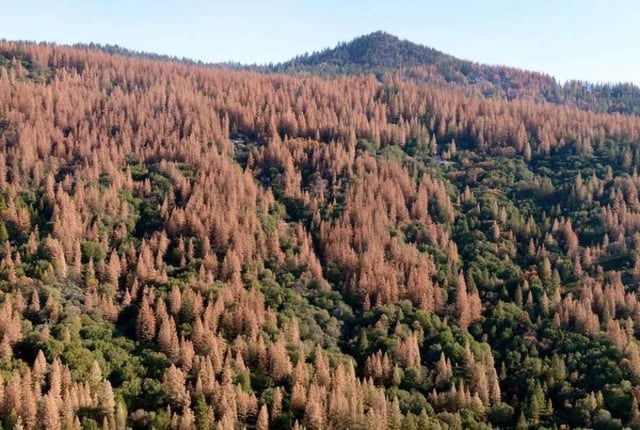 The outdoorsman in me rejoiced about the tremendous water we fished and the wild trout that we hooked and released. However, the firefighter in me cringed about the amount of dead fuel strewn throughout the forest. In my estimation, it makes up as much as 50% of the biomass in any given area. With no pun intended, this is truly an explosive situation. If you can see the dynamics as a trained firefighter, the sight leaves you with a terrible sense of awe and impending doom.
Every afternoon, the cumulonimbus clouds in the sky reminded me that it's only a matter of time before nature lights off this tinder box. What's more disturbing is that communities like Bass Lake, Oakhurst, and Mariposa (literally insert any Sierra foothills and mountain community to this list) are right in the path of potential destruction. The number of dead trees that are intermixed in those communities suggest to this firefighter that when the summer lightning strikes happen (and they will happen), and if our firefighting resources are taxed (and they will be taxed), any of these communities could literally be vaporized. I can't even begin to imagine what initial fire attack will look like for a fire of this intensity and size. Our western forests are primed for one of the most historic fire storms our country has ever seen.
The amount of resources that will come pouring in from all over the West (and more than likely beyond) will be mind boggling: Crews will flood in from other National Forests and Cal Fire Ranger Units (as long as they are not already fighting other fires). They will come from San Diego, Sacramento, Los Angeles and San Francisco. Yes! City firefighters will come and do their best to protect whole swaths of humanity that have made their homes in the Sierras. And when we run out of those resources, calls will go out to other states and other countries. Arizona, Nevada, Oregon, and Washington, Canada, New Zealand, and Australia will hear our call.
A smoky fog of war are an inherent and dominate aspect of the command of such massive responses. Tracking the influx of outside resources in the midst of this fog has caused brain damage to even the savviest and most experienced incident commanders. Recall the fire storms of 2007 when strike teams were arriving in San Diego and self-assigning to fire breakouts without the command team having knowledge of their availability or even their arrival! Finally, someone of authority would make contact and reiterate the fact that these crews were "on [their] own" and advised to do what they could.
Despite the increased pressure and higher stakes than ever, our information systems and the command centers that house them still resemble World War 2-type strategy rooms with lots of moving parts rooted mostly in analog systems. Mobile technology is beginning to play a key role in during these massive campaign fires and Tablet Command is bolstering its presence as part of the solution.
As factors like climate change continue to create increased pressure on forests and thus emergency responders, the importance of easy-to-deploy, mobile technology will increase as well. This technology must be capable of providing accurate intelligence on-demand and in real-time so that lives are not lost during these massive efforts to keep the public safe.
It seems inevitable that I will be returning to the Sierras very soon... But not with my fishing gear.