When I first entered the fire service in 1998, it was all about eating huge. After all, you never knew when you were going to eat again…. at least that was our station's philosophy in the California Department of Forestry and Fire Protection.
Our BIG meal of the day was lunch: a huge tri-tip steak, mashed potatoes, some sort of starchy "other" side and a salad. The idea was to eat large portions to store up calories for the impending conflagrations. We usually did hike off some those calories in the late afternoons and evenings fighting wind-driven fires along the 101 corridor.
The problem was that I kept those same eating habits when I got hired in the municipal ranks and I got HUGE! I got fat and unhealthy. I wasn't carrying hundreds of feet of hose through the wildlands of California in 100-degree heat 4 or 5 afternoons every week anymore. Instead I was running mostly medical calls. But I was eating as if I were going off to battle for weeks at a time without rations.
Get a bunch of (mostly) men together and it becomes a cooking extravaganza: the best steaks, potatoes, sides of pasta, fried veggies, rice-a-roni, hamburger helper and then top it off with ice cream after dinner. It was literally like the cooking scenes from Goodfellas.
And why not? When most Americans thought "Firefighter", they thought about a jowly, mustachioed, extra-large man that was capable of kicking in doors, lifting heavy things, and putting fires out with a roar. The trouble is that many of those guys were having heart attacks during or after such heroics.
At Tablet Command, we're trying to directly reduce the 30-40 lives lost due to lack of communication, inadequate tracking, and incomplete information during emergencies. The other 40-50 firefighters' lives lost each are due, in large part, to cardiac related events on and off the emergency ground. We're working on technology to reduce that number too but in the meantime, thanks to organizations like the National Fallen Firefighters Foundation, Everyone Goes Home, and Dr. Denise Smith we are become highly aware that sudden cardiac arrest is a big problem in the fire service.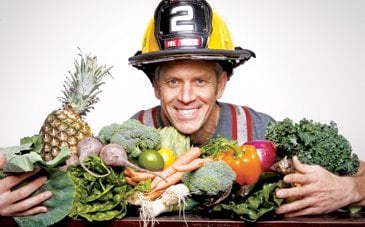 The good news is that we can take important steps to reduce these losses. When it comes to fitness and eating, a sea change is at work in the fire service. I did a double take at one of my fellow firefighters this week when I saw him. He's lost almost 60lbs in the past year and looks great! He's not the only one.
Our members are becoming more specific with their workout routines and pushing themselves to optimum levels of cardiovascular fitness. The eating has dramatically shifted too. Smaller portions, smart calories, LOTS of VEGGIES, less red meat less often, quinoa instead of pasta…
The results of these healthy changes have been a leaner, stronger, healthier, workforce that has a better chance of living longer with less injury and illness. Now isn't this the type of public servant you want showing up at your worst hour?
I want to give a special shout out for folks like Rip Esselstyn at the Austin TX Fire Department who wrote the "Engine 2 Diet" that takes the stigma away from eating vegan. Thanks also to films like "Forks Over Knives", "Fat Sick and Nearly Dead", and "Food Inc".