On May 1, 2019, Tablet Command will be making Version 1.6 of TC Mobile available in the Apple App Store. It will be available for manual update May 1st through May 7th. From May 8th to May 15th, users who have application auto-update enabled will begin receiving the update.This update has been tested over the last several weeks in house and by our beta users. This version resolves minor known issues while providing enhancements like unit status as color and the addition of Waze as a navigation option.
Overview:

Notification settings clarification that unit and incident type are independent of each other
Added Disable Dimming feature (Pro users*)
Increased time that vehicle locations remain on the map (24 hours)
Fixed map loading the same layers multiple times
Added unit status color support (Two Way Interface)
Improved synchronization of data
Fixed location permission dialog not visible
Resolved ArcGIS Online Map titles (aliases) not being properly displayed
Resolved follow button being hidden
Added maps stop follow-me when changing map view
Added support for Waze navigation app
Added improved address resolution for some customers
Settings menu supports sending logs/database for technical support
Bug fixes and other enhancements
*Pro users can use the enterprise version of the iPad only Application, Tablet Command
New Feature Details:
Added unit status color support

For enterprise customers that have 2 Way CAD integration, units on the map may now be displayed as a color that reflects current status. This feature requires configuration by a Tablet Command administrator using the web administrator console.
Notification settings

Added notification settings notes that unit and incident type are independent of each other. This clarifies that users can independently choose what units and what incident types they would like to be notified for. For example if your assigned engine is E1 you can choose to receive notifications every time that piece of apparatus is dispatched. You could separately choose the incident types you wish to receive notifications for. You will receive a notification for ANY incident of this type regardless of if you chose to be notified for unit(s).



Added send logs and database to settings


TC Mobile users can now send logs and the TC Mobile database to Tablet Command support from the settings screen.


Added support for Waze

Users requested support for Waze for turn by turn navigation and Tablet Command has added this option. To enable Waze Navigation, you must install Waze for iOS on the device. Once installed, tap the configuration cog in the lower left corner of the application, select "Navigation", then choose "Waze". This will make Waze the default navigation application application for Tablet Command.


Added Disable Dimming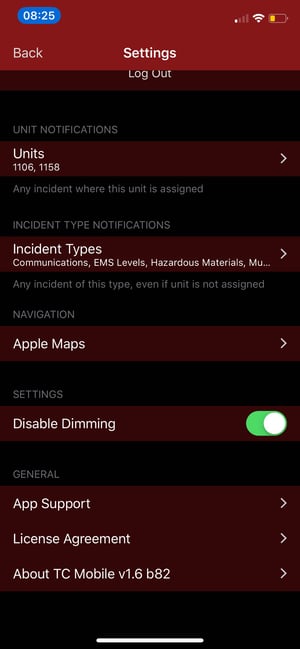 Tablet Command Pro users can enable Disable Dimming from the Settings menu. This feature prevents iOS from auto locking or sleeping the device. Now, as Pro user, you can run TC Mobile without iOS going to sleep or locking the device. Please use caution as this can significantly reduce battery life.
As a reminder, we support integration with the following navigation applications, Apple Maps, Google Maps, Waze, and Foreflight Mobile (https://foreflight.com/products/foreflight-mobile/) for our aviation customers using Tablet Command to respond to incidents.


On behalf of the Tablet Command team, we thank you for your support of our products. If you have questions or encounter challenges please contact your Tablet Command account representative, or submit a support request to support@tabletcommand.com.