On June 23, 2020 TC Mobile 2.0 for Android was released to the Google Play Store. This release includes exciting new features including improvements to mapping with the implementation of ESRI RunTime 100, Disable Auto Lock, and new support options. This update has been tested over the last several months in house and by our Beta users in the field. It also resolves some minor known issues.
Overview:
New Features and Enhancements:
Esri ArcGIS Quartz Runtime 100.6

Supports viewing agency map data
Supports Vector Maps, ArcGIS Web Map Labels
Supports KML Map Layers

Includes access to Support by email including sending logs and database
Includes Disable Auto Lock for Pro Users
Bug Fixes:
Fix for the pin center
Fix for maps not loading
Fix for crashes when rotating the device
Minor Bug Fixes
New Feature Details
ESRI Runtime 100.6 (Quartz)
The combination of enhanced performance and new mapping tools make this release revolutionary. Runtime 100 (Quartz), loads, pans, and zooms maps much more quickly than the previous version. See images below.
Support Options
Users can now submit support tickets including sending device logs and databases directly from the application.
Disable Auto Lock
For Tablet Command Pro user accounts only, this version has the option to disable the screen locking after a period of inactivity. This feature will consume significantly more battery power so it is recommended that it is used when the device is powered continuously. See images below.


New Feature Images
From left to right. Overview Map with pre-plans as blue squares and hydrants as red dots. Settings with Disable Auto Lock option. Incident Map view with parcels, address labels, vehicle location, and hydrants as red dots.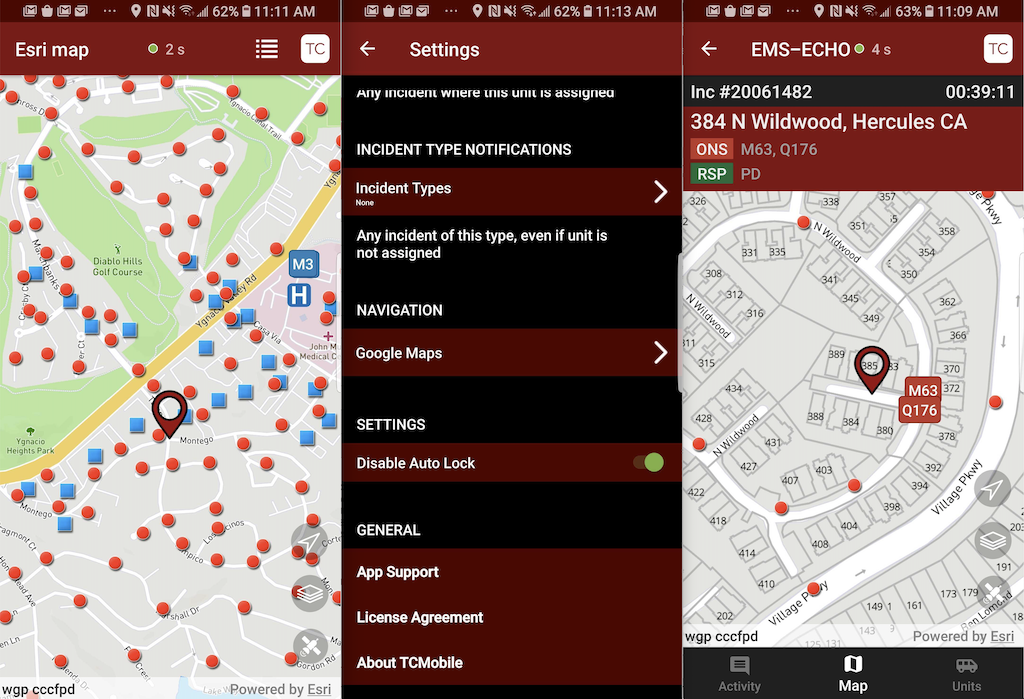 Download Here:
https://play.google.com/store/apps/details?id=com.tabletcommand.tcmobile