On Monday April 18, 2022 Tablet Command will release TC Mobile 3.2 to the App Store. This release includes support for offline maps, follow me with compass and minor bug and performance fixes. It also includes minor bug fixes and performance improvements.
GENERAL
Supports Esri offline maps (MMPK and Pre Plan Areas)
Tap on location blue dot for latitude and longitude
Added "Follow with Compass" feature to map views
AVL popover supports speed and altitude if enabled for the account and available
Improved network timeout and better feedback
Resolved issues with notification subscriptions
Resolved KML map layer bug
Updated real-time-sync mechanism
Support new TC ArcGIS Online user authentication
Improved background location update
Offline Maps
Users can now access offline maps including Mobile Map Packages and Pre Plan Areas in TC Mobile. Mobile Map Packages are the most versatile allowing access to dynamic resources like cameras, weather stations, and river gauges when the user is online, while maintaining access to base elements like parcels, hydrants and addresses when offline. Offline maps are created and managed by a GIS resource, shared to the Tablet Command group and then will be available for all users. For more information about creating offline maps click here.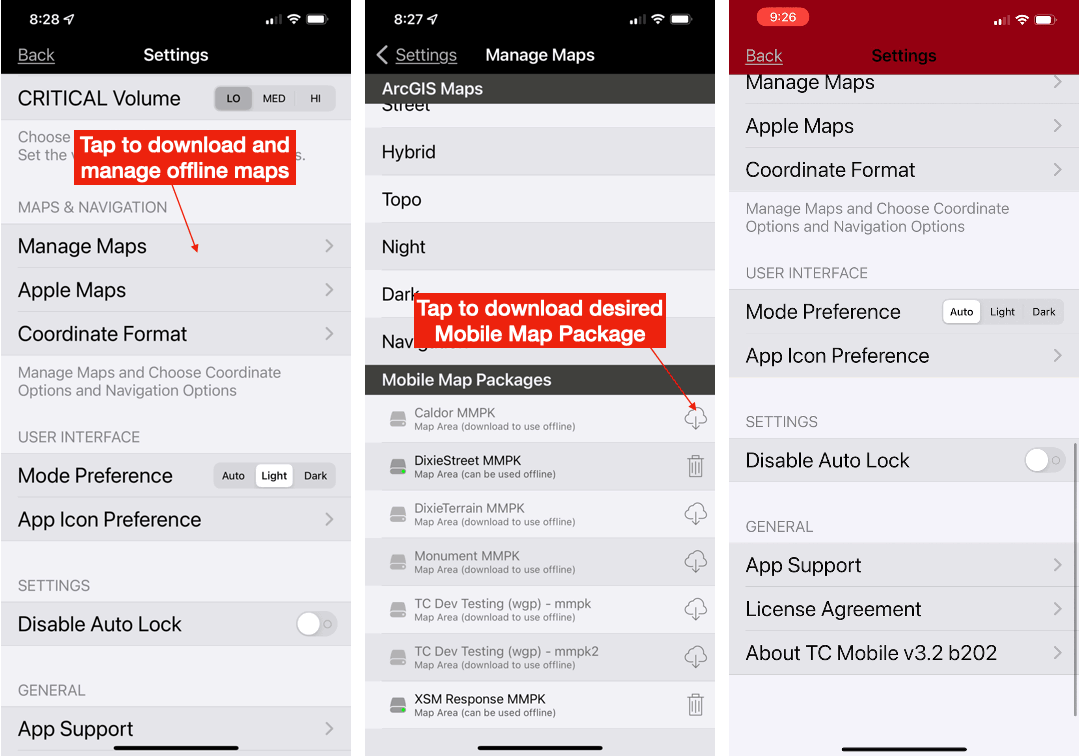 Follow me with Compass
In order to better navigate and orient yourself on the incident map views, we have added Follow Me with Compass which sets the top of the map as your direction of travel. This also makes it easier when operating on a large scene to orient yourself by pointing the iPad in the direction of a specific feature like a hill, peak, or intersection. This feature is activated by tapping the arrow icon on the map twice. The first tap activates the Follow Me feature, which centers the map on the iPad's location, and the second tap activates heading up, the Follow Me with Compass feature.
Network Indicator, your Location and AVL PopOver
We have improved the online/offline indicator, added the ability to quickly see and copy the coordinates of your location, and enhanced the AVL popover to include speed and altitude when available.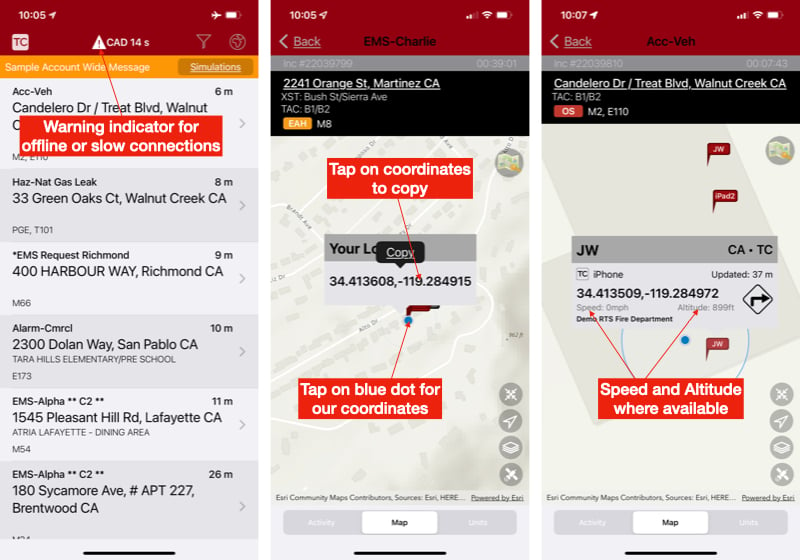 NOTE:
This is a phased release over the next 15 days. You can also update TC Mobile manually from the App Store to enjoy the new features after April 18th.