On February 10, 2020 Tablet Command 2.0 will be released to the App Store. This release includes exciting new features including revolutionary improvements to mapping with the implementation of ESRI RunTime 100, a unit status table for our two way customers, and significant UI enhancements. This update has been tested over the last several months in house and by our beta users in the field; it also resolves some minor known issues.
General
Esri ArcGIS Quartz Runtime 100.6
Fixed editing a Unit Note
Fixed editing local battalions
Unit Notes, Checklists and CAD Notes support hyperlinks including phone numbers and URLs
Resolved some iOS 13 user interface issues
Assignments View - fixed issue with view showing blank
Fixed Add Notes window being too small
Minor Bug Fixes
Enterprise Pro Features - all accounts
Supports Vector Maps
Supports ArcGIS Web Map Labels
Supports KML Map Layers
Map Menu resorted to show user maps at top of table
Tablet Command supports integration with FireMapper Enterprise (see Note)
Updated Templates and Checklist menu to more clearly delineate the sections
Overview - Unit list is now scrollable providing viewing of all units assigned by CAD
Improved synchronizing preloaded units in the Resources View
Improved CAD Incidents List performance
Added Units View image to Activity Record export
Enterprise Pro - 2 Way accounts
Unit Status View table

Filter and Sort by Unit, Status or Time

NOTE: FireMapper Integration requires FireMapper Enterprise - contact Tablet Command support.


New Feature Details
Esri Runtime 100.6
Esri Runtime 100.6 is a revolution in mapping performance and features that supports vector maps, ArcGIS web map labels, KML layers and can be 20 times faster than the previous solution especially when accessing maps with multiple layers as you can see in the video below.
Unit Status List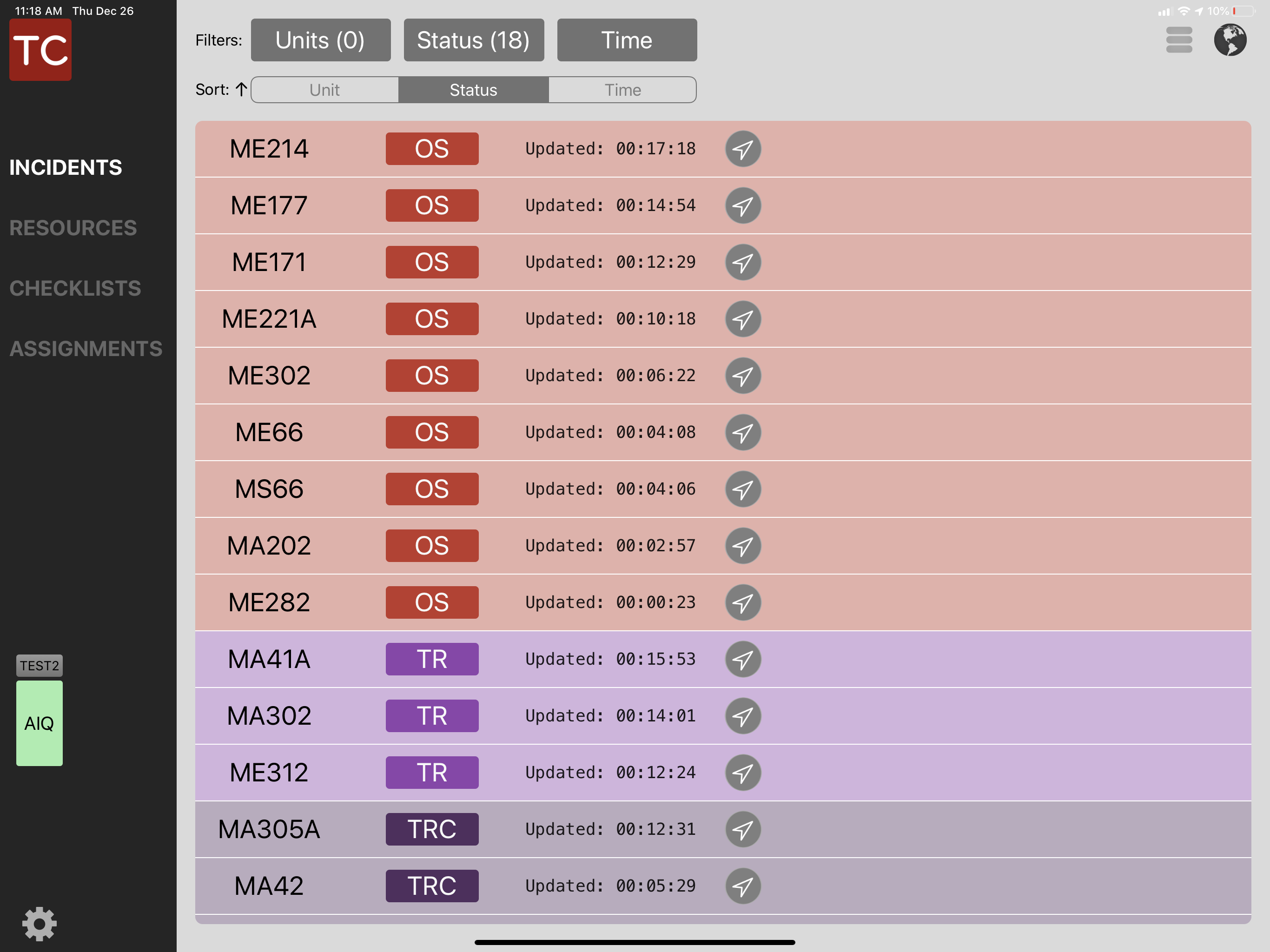 Tablet Command Two Way customers can now see the status of all units in a table view. For convenience, the table can be sorted and filtered by unit name, unit status and time. The table is color coded to match unit status as color in the map view, and users can tap on the unit to see its location on the map.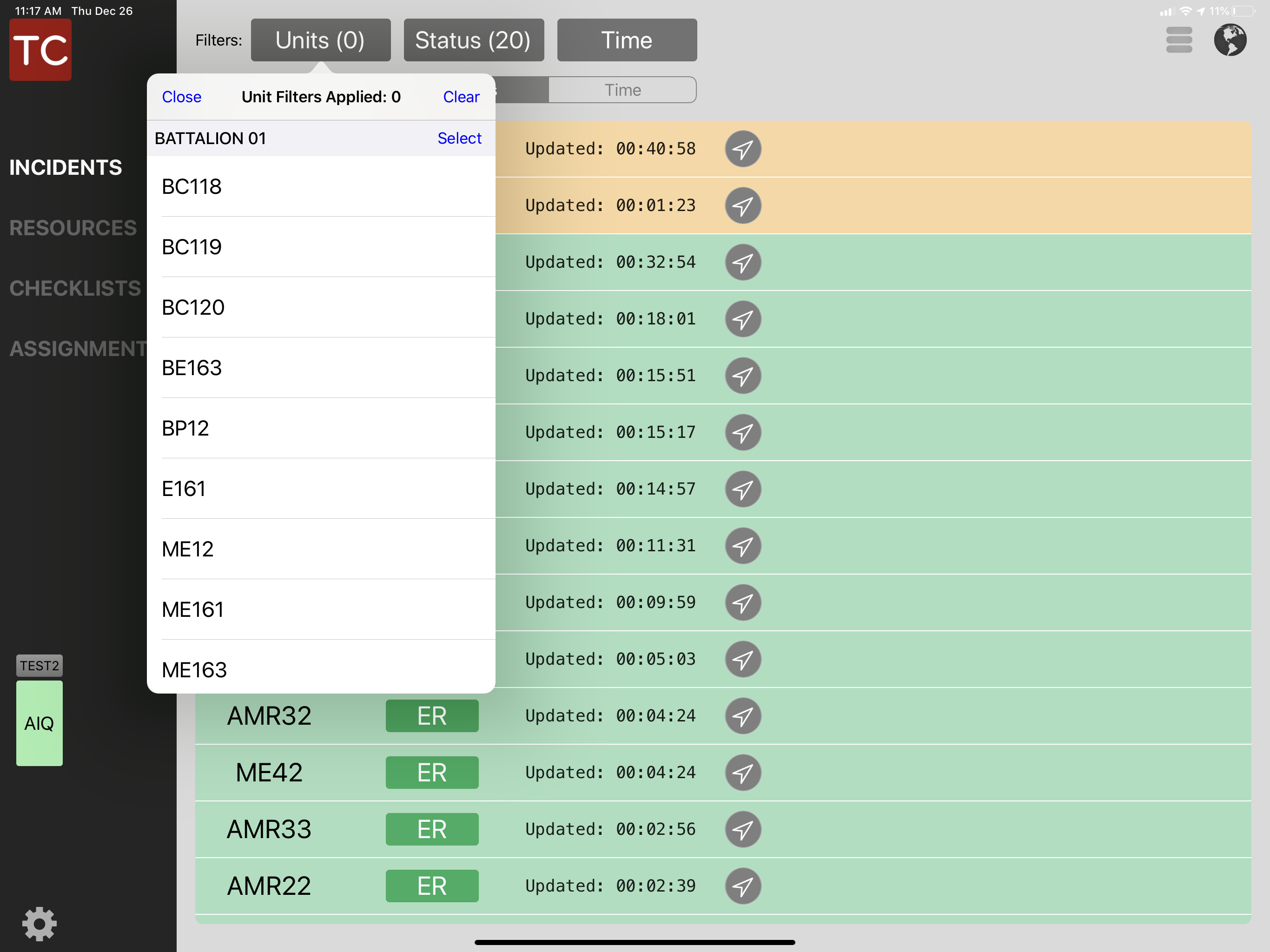 Links in Notes and Checklists
Notes and Checklists will recognize web addresses, phone numbers, and physical addresses as hyperlinks.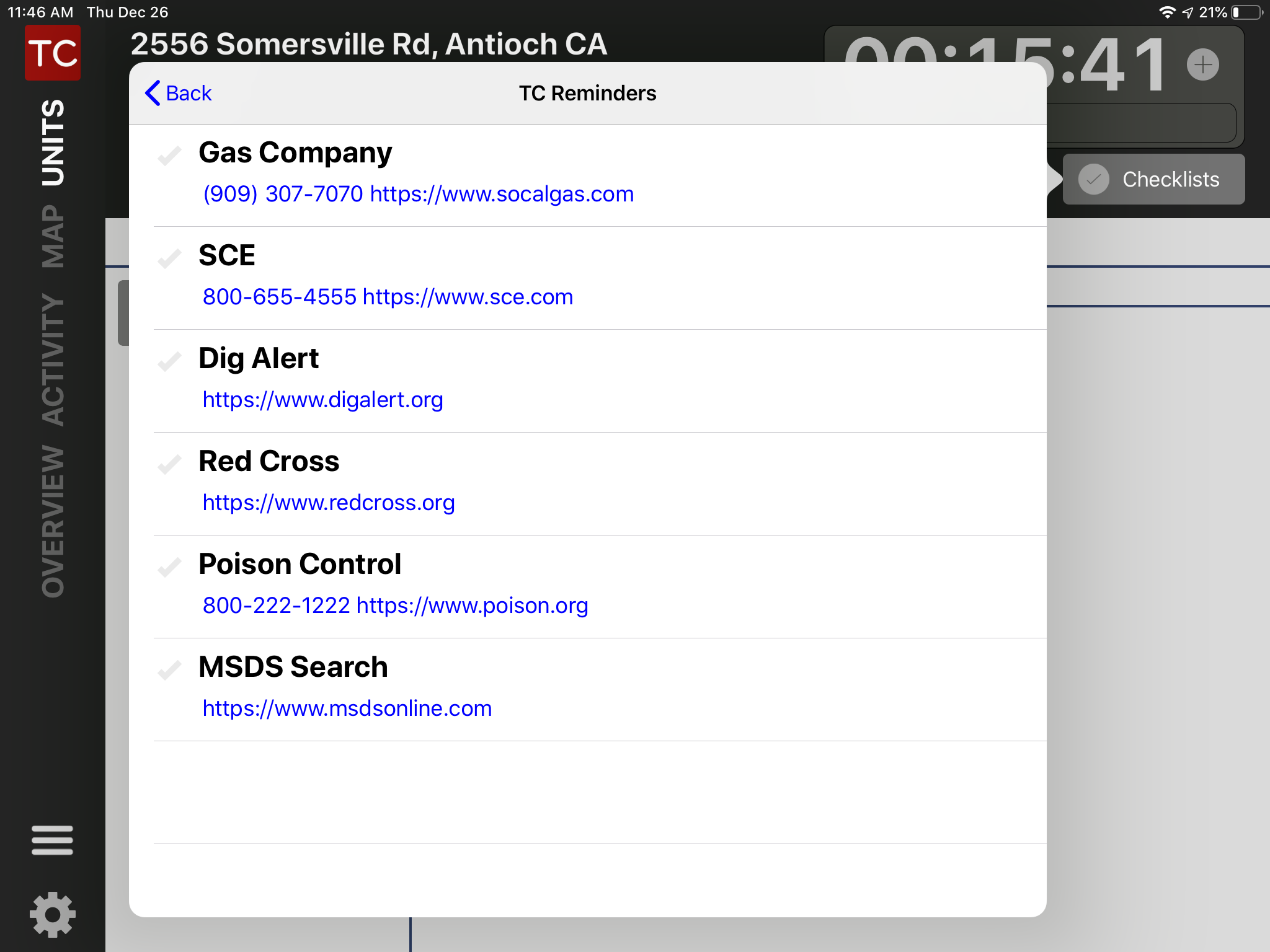 FIREMAPPER ENTERPRISE INTEGRATION
Tablet Command supports an integration with FireMapper Enterprise. This allows a user with a Tablet Command Enterprise Pro account and Fire Mapper Enterprise account to create an incident specific map in FireMapper with one button tap. Users in FireMapper will be able to view, make edits and return to Tablet Command with the tap of one button.
NOTE:
Tablet Command 2.0 will be available for manual update from February 10th through February 17th. From February 17th to February 24th, users who have application auto-update enabled will begin receiving the update automatically.